Townsend Old Girls - Anecdotes & Stories
The Experience of a Lifetime
by Brenda Phillips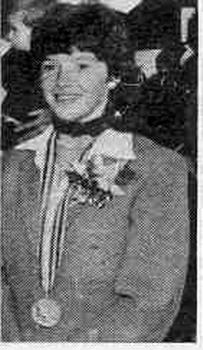 Never in my wildest dreams did I imagine that I would get to watch an Olympic Games let alone be a participant. My recent trip to Moscow with the Zimbabwe Women's Hockey team for the 1980 Olympic Games was indeed a most wonderful experience.
We flew from Salisbury by Dakota on July 7th to Lusaka. After a six hour delay we continued our journey in a Russian Airways' Aeroflot' Olympic Carrier via Luanda and Budapest to Moscow. On arrival we were driven by bus to the Olympic Village where there were eighteen sixteen-storey blocks of flats with two and three bed roomed apartments to accommodate the competitors. Two of us shared a room on the fourteenth floor in an 'all-woman' block which was strictly guarded by militia men. It was virtually impossible for anyone else to enter the building.
There were four restaurants in the village each with seating for a thousand people and a variety of interesting foods to tempt us. Breakfast was available form 5 to 11 a.m., lunch from 11 to 4.30 p.m. and dinner from 4.30 till midnight. We were issued with a book of coupons for meals while ice-creams, soft drinks, tea etc. were 'free' at tea-rooms and milk bars at all hours.
A cultural centre provided evening entertainment for us. Within this complex there were two movie halls, a large modern theatre with a 1200 seat auditorium, a discotheque, library, two music rooms with a vast collection of records and tapes for us to play, a television room, games room with pin-ball etc. In the theatre a wide variety of shows took place ranging from a circus, and puppet shows to popular Soviet artists, world famous Soviet ensembles and orchestras and the nation's best amateur folk groups. So we were most fortunate in being able to enjoy these, though the rule for our team was to be back in our flats by 10 p.m.!
Accreditation (I,D,) cards were issued to us on arrival and we had to wear them everywhere we went. I dread to think what might have happened had we lost one. The security was very well organised. Travelling outside the village two militia men escorted each bus. To make sure we reached the Opening and Closing ceremonies safely the streets were lined with militia men at twenty metre intervals. These were most memorable and uplifting occasions. The organisation was terrific with bands playing and gymnastic and folk dancing displays.
The people of Moscow appeared rather unfriendly to start with but were beginning to unbend by the end of our visit. The city was beautiful to see and exceptionally clean. Moscow's large population is housed in high rise flats with grocery stores on the ground floors. Items were not well displayed in the unusually stuffy shops where there were long queues. We therefore did most of our shopping in the souvenir and sports shops in the village which were very Americanised.
The sporting facilities in Moscow were tremendous including over 60 stadiums, 29 swimming pools, 1384 gymnasiums and 382 soccer pitches. We played our hockey on a synthetic polygrass surface which was watered before each game to increase the speed of play. We found this very different from our home fields. A rigorous training programme started soon after we had settled into the village. Four preliminary games helped us to find our feet before the Olympic matches began. There we were extremely lucky to draw Poland first, the weakest team, then Czechoslovakia who were strong opponents, followed by Russia also very strong and then India who were possibly the strongest. These matches gave us two wins and two draws so that our win in the last game against Austria, one of the weaker sides completed the series. Most of the teams played a man-to-man system against which it was extremely difficult to play constructive hockey. We had to adapt our game accordingly and this challenge made our 'golden victory' all the more exciting for us.
I was also extremely fortunate in being able to watch the finals of several other sporting events at the games, these included the men's and women's 3 metre diving, men's volleyball, between Bulgaria and Russia, men's hockey between India and Spain, women's gymnastics where Nellie Kim, Nadia Comaneci and Maxine were outstanding, and the final day of the athletics which provided a number of highlights. We also hired a television set so were able to watch other finals including basketball, handball, swimming, rowing and judo on the box.
By the 3rd August we were more than ready to come home after a tearful farewell to Misha - the Olympic bear, at the end of the closing ceremony. We returned by the same route but it was only when we touched down at Salisbury airport that we realised exactly what we had accomplished and how it had affected everyone at home. We had no idea how closely we were being followed and how much coverage the press had given. Thank you for the wonderful welcome on my return to school.
I would like to take this opportunity of again thanking all members of Staff, in particular Mrs. Hill, and Senior Girls for helping out with my school and afternoon activities. Also girls, thank you for foregoing some of your own sport while I was enjoying the Olympic scene. I do hope I will now be able to give something back to you which I have gained from this wonderful experience.

Extracted from the 1980 Townsend High School Magazine. For additional photographs please visit the Photo Gallery